Yoga Classes for the Whole Athlete with Dario Fredrick

Unlock your potential by unlocking your hips and shoulders. Align your spine to play injury free. Balance your nervous system to promote optimal recovery.
Specific poses will be practiced to encourage alignment, balance and openness. While each workshop has a specific focus, they are appropriate for everyone, athletes and non-athletes alike. All workshops include restorative poses to enhance recovery from strenuous exercise and stress. Increased freedom of movement and restorative practices translate to improved recovery from daily activities and a greater sense of balance within.
---
Hips, Knees, Low Back


It's all in the hips…Ideal for runners and cyclists, this workshop will address alignment in the hips and their effects on the knees and lower spine. The repetitive action of pedaling in cycling creates inherent tightness in the hips and often translates to knee and low back challenges. The biomechanics of running and cycling can be improved with better alignment and range of motion of the hips, while reducing risk of injury.
Shoulders and Upper Back


Why shoulder the burden? In this workshop, we will focus on the shoulders and upper back. In swimmers, strength develops in the upper arms, back and shoulders, but often at the expense of muscle length, alignment and freedom of movement.

Daily activities commonly compromises shoulder alignment and can exaggerate the natural curves of the upper back and neck. We will practice poses that address these areas, working on aligning the spine and freeing the shoulders. This workshop is also ideal for those who work at a computer.
Optimal Recovery - Restorative Yoga


Restorative poses promote balance in the commonly overworked systems of the body. The high-energy aspects of daily activities, whether intense exercise or stressful work, can place significant stress on both the mind and the body.

Stress literally stimulates the "fight or flight" response of the nervous system, breaking down muscle and rapidly utilizing stored energy. Restorative poses reduce and counteract the stress response, enhancing recovery and peace within.
---
Dario Fredrick has studied and practiced Yoga for 20 years, and has 14 years of teaching experience with all levels. An exercise physiologist, Dario integrates exercise science and biomechanics with the many elements of yoga to help athletes find balance and optimize performance. He understands the particular needs of active people and those new to yoga, teaching with sensitivity to limitations and injuries.
For more information contact dario@wholeathlete.com.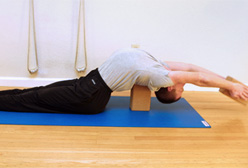 "Health is firmness in body, stability in mind, and clarity in thinking."
-- BKS Iyengar