SRM Powermeter

The ultimate cycling training tool.
Converts your bike into a mobile ergometer, isolates and records all the key variables of performance, downloads to computer for file review and analysis.
Unmatched dependability and customer service.

SRM Website: www.srm.de

---

Quarq Powermeter

Integrated in the crank spider.
Accurate measurement of power and cadence.
Compatible with SRAM, Rotor, Cannondale and other replaceable crank arms.

Quarq Website: www.quarq.com

---

PowerTap Powermeter

Affordable alternative to SRM.
Power measurement at rear wheel hub.
Records all key variables for download and review.

---

Garmin Head Units

Fundamental technology for focused endurance training.
All models available - cyling, multisport, running, fitness.

---

CompuTrainer™ Pro-3D Ergometer

Stationary Ergometer with computer interface for "real ride" simulation and comprehensive power and pedal stroke analysis.
Ideal for athletes who train with limited time or harsh environmental conditions.

Computrainer Website: www.racermateinc.com

---

Rotor Elliptical Q-rings

Ovalized chainrings work with your body's natural pedaling rhythm to maximize power output, increasing performance.
Helps to eliminate "dead spot" in the pedal stroke.
Adjustable orientation of the ovalization makes the Rotor rings unique, allows for the system to be tuned as the riders rhythm changes with the usage of the rings, slowly adapting towards maximizing power.

Rotor Website: www.rotorbikeusa.com

---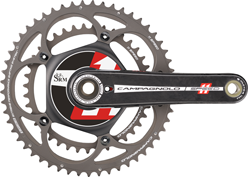 At Whole Athlete we are selective and confident of the products we offer. Our coaches personally test and recommend these items. For purchases, questions or product feedback contact us.