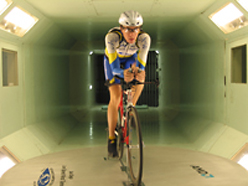 Wind tunnel tested methodology.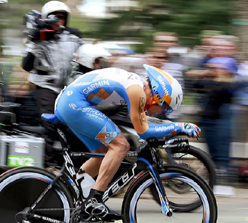 Relied on by world-class athletes.
"Just wanted to drop you a quick email to say thanks again for my bike fits. Especially my TT fit. This past weekend I raced the Madera stage race in the Elite 3's and won my TT race. I felt really good on my bike and accomplished what I set out to do this year. My road bike is feeling really good too. One goal down and many more to go. I can't tell you thanks enough! "
-- Aaron, competitive cyclist
"Over the winter, Dario and I decided to really fine-tune my Time Trial position. After several sessions of working with my inflexible body, we were able to get my position dialed in. For years I struggled with saddle height and bar drop, both of which were causing me great hip pain. We developed a position that is powerful and fast, and most of all pain-free.
Having a position that works with your body but still allows you to be as aero as possible is key. Maybe we could have made me even more aero but then I would have not been able to produce as much power as I am capable of. There is definitely an ideal balance between comfort, power and aerodynamics. To find this perfect position without a wind tunnel is difficult. Fortunately, Dario has wind tunnel experience and knows what works and what doesn't when it comes to hand, arm, head and torso position. With my good form coming I look forward to trying out this position over and over again this year against some of the best time trialists in the world. "
-- Steven Cozza, professional cyclist
"I just wanted to say thank you again for all your help fitting my TT bike. All your efforts set the stage for a great bike leg at the World Triathlon Championships. I had the fastest bike split in my age group and I had the third fastest bike split out of all the women, 630 of them!
My sincerest gratitude for all your help. It's made a huge difference in my cycling performance. Thank you very much!
"
-- Pam, triathlete
"The new position is giving me an extra 10-15 watts right out of the box. Efforts in the flats feel wonderful and i'm naturally gravitating into the drops now. Back/ hips need a little time to adjust, but I think there's no doubt that this new position will ultimately be more comfortable, aero and more powerful. Nice work!"
-- Mark, road, time trialist, MTB cyclist
"I wanted to write to check in via my bike fit I did with you about one month ago. It's really making a difference. I feel comfortable and powerful thus far and the watts are coming back up after several months of little or no riding due to a hamstring issue. Anyways, I'm very happy and confident in your fits and I just want to say thank you again."
-- Nate, multisport athlete
"Dario was recommended to me this winter when I was in the Santa Rosa area for some winter training and was having some knee problems. He did a great job assessing my position on the bike and addressing my knee injury. His wealth of knowledge coming from many angles allowed him to isolate my positioning problems resulting in a proper bike fit.
A few weeks later I brought the TT bike in. Although it wasn't immediately apparent on the trainer while we where doing the fit, once I got out on the road I was amazed how well-adjusted he made things for me. Instead of having multiple changes to make, I didn't feel like I needed to change anything. After one ride I was out performing hard workouts without making any adjustments. For a professional cyclist who targets GC finishes in stage races, this is a huge burden off my shoulders and allows me to progress more quickly. I recommend working with Whole Athlete to stay ahead of the curve, preventing injury and just feeling solid on the bike. Their experience and wealth of knowledge has allowed me to focus my training and racing with confidence. "
-- Anthony Colby, professional cyclist
"I just wanted to send you a quick thanks for doing such a great job on the bike fit. I appreciate that you listened to my need for increased comfort on the bike. The result has been a much more fun and painless ride and greatly increased performance too.
Within a couple of weeks of the fit, my sustainable power for an hour increased by over 10% and has continued to move upward since then. From a performance standpoint, the benefit is two-fold:
1. Mechanical efficiency has increased which has led to greater sustainable power AND
2. Being comfortable on the bike has made it much easier to train near threshold pace for long periods of time which also has lead to greater sustainable power.
Thanks again. I couldn't be happier!"
-- Harold, multisport athlete