Don't just take our word for it...
"I was introduced to Dario and Whole Athlete when I moved to California to join ProMan Women's Professional Cycling team. I had heard rave reviews about his bike fitting and their holistic approach to coaching. Having been a cyclist for three years, I suffered from various degrees of knee pain, which I thought to merely be just part of the game. Dario showed me that I was wrong, utilizing minor (but crucial) adjustments to damaging attenuate movement and increased my efficiency. Once I made the trip to The Whole Athlete studio to get my road bike fit properly, I immediately saw results; I felt more comfortable and my upper body was more relaxed. Just as importantly, my knee pain has completely disappeared..."
-- Megan Guarnier, professional cyclist
"I believe Dario has given me the gift of cycling back.
The very next day after my fit, I was able to ride 40 miles without knee pain. You see, I had successful knee surgery back in July 2010 for a torn meniscus and runner's knee. However, I was still experiencing anterior knee pain while riding anywhere between 8 and 19 miles post surgery. The doctors didn't know what the pain was from, but Dario had an educated thought or two on the subject..."
-- Mo, road cyclist
"Over the winter, Dario and I decided to really fine-tune my Time Trial position. After several sessions of working with my inflexible body, we were able to get my position dialed in. For years I struggled with saddle height and bar drop, both of which were causing me great hip pain. We developed a position that is powerful and fast, and most of all pain-free..."
-- Steven Cozza, professional cyclist
"Hi Dario - I have been meaning to write to you for quite awhile but keep forgetting. I just wanted WHOLE ATHLETE" | Precision Bike Fitting for Road, Mountain, Time Trial, Triathlon, Cyclocross & Trackto let you know how much I love my bike now! It feels like a completely different bike...and, the best part is that I have no more knee pain and my toes do not get as numb as they used to. Also, since you changed out the stem and moved my handlebars, I love riding in my drops and it has helped me improve my descents a great deal. I rarely used them before...they just didn't feel right. But, now that is where I spend most of my ride. I feel much moreconfident going down Diablo now!..."
-- Janet, road & multisport cyclist
"Thank you for the amazing experience yesterday during my bike fitting -- for the abundance of information, your expertise, and all the time you spent with us.
I took my bike out for a ride this morning and was really amazed how good I felt. My upper body felt sooo relaxed. I think I have been fighting with my positioning on my bike (straining to conform to the wrong position). I had relaxed shoulders, chest felt more open and did not have to constantly try to settle my shoulders as they were already down. I am certain my neck and shoulder discomfort will go away because of this. Also, I didn't need to adjust my body position at all. I just sat in the right place and pedaled on without any readjusting - amazing..."
-- Sonja, road cyclist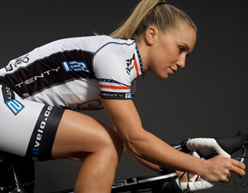 Whether you're a world-class professional or beginning cyclist, everyone deserves a good fit!
"When riding for a professional cycling team, bike sponsors change from year to year. Also, as a multi-discipline cyclist, I have more than one bike that I ride on a regular basis. It is so comforting to know that I can take my bikes, whether road, time-trial, mountain or track, to the Whole Athlete Performance Center and trust that I the best possible bike-fitting done..."
-- Shelley Olds, professional cyclist
"After months of knee problems on the bike I sought out experts in the field of bike fitting and sports medicine. I was fitted and treated by three different, well-known professionals throughout the country. While I respect their experience and knowledge, none were really able to help me with my knee problems, and I never felt quite right on my bike. Finally, I was referred to Dario Fredrick of Whole Athlete. His no-nonsense, practical approach to bike fitting made him my last stop. Dario was able to fix my position and help my knees! I have been pain-free and loving the bike since. Thank you!!"
-- Ken, road & MTB cyclist
"I just wanted to send you a quick thanks for doing such a great job on the bike fit. I appreciate that you listened to my need for increased comfort on the bike. The result has been a much more fun and painless ride and greatly increased performance too..."
-- Harold, multisport athlete
"Let me just say....Holy Crap! It feels like I'm riding a whole new bike. The hamstrings at the tops of my knees don't burn anymore and I actually feel all the leg muscles engaging. Funny how that works when fitted properly..."
-- Aaron, road racer
"I wanted to write to check in via my bike fit I did with you about one month ago. It's really making a difference. I feel comfortable and powerful thus far and the watts are coming back up after several months of little or no riding due to a hamstring issue. Anyways, I'm very happy and confident in your fits and I just want to say thank you again."
-- Nate, multisport athlete
"I just wanted to say thank you again for all your help fitting my TT bike. All your efforts set the stage for a great bike leg at the World Triathlon Championships. I had the fastest bike split in my age group and I had the third fastest bike split out of all the women, 630 of them!
My sincerest gratitude for all your help. It's made a huge difference in my cycling performance. Thank you very much!"
-- Pam, triathlete
"The new position is giving me an extra 10-15 watts right out of the box. Efforts in the flats feel wonderful and i'm naturally gravitating into the drops now. Back/ hips need a little time to adjust, but I think there's no doubt that this new position will ultimately be more comfortable, aero and more powerful. Nice work!"
-- Mark, road, time trialist, MTB cyclist
"I wanted to say thanks for the yoga poses, they're really helping and the bike fits are working out great. I thought I was pretty dialed in before, but pleasantly surprised what a difference your recommendations made. The changes were instantly recognizable. My pedal action felt more fluid and on the road/trail my comfort, power and speed are up..."
-- Greg, road & MTB cyclist
"I can't thank you enough for this bike fit! I took an extra long way to get back home -- and this is after riding over the Marshall Wall -- because I can't believe how good it feels to ride that bike! I had banished it to local trips only because I was so uncomfortable on it. Now I think I may put the dirt tires back on it and go have some fun!"
-- Katie, road, MTB cyclist
"I wanted to write to you and tell you how things were going with my knee and new fit. After our last session, I took almost two weeks off the bike to let my knee heal. After that, I eased back into riding and liberally used the anti-inflammatory massage oil. That was back in January. At first the knee was still a bit tender, but I have now been riding and racing for the last few weeks, and I feel great. The knee feels strong, and I feel comfortable and powerful on the bike. Thanks for taking the extra time with me to ensure that I could find a cure for my knee problem."
-- Matthew, road racer
"A million Thanks. I rode today after my bike fitting from yesterday. There was a bigger, better improvement than I could have imagined. I actually felt comfortable for the first time in a while on my bike. I planned on taking it easy, staying in zone 1 for 2 hours. I ended up feeling so good that I pushed it for 2.5 hours. I felt great. The bike handles and rides much better, my body feels great and I am so grateful for your help. I also found that I can spin between 110-110 rpm much easier and also effortlessly. I am excited to gradually start my training back to race condition over the next few weeks. I was surprised by how much difference the right fit can make. I should have been to see you last year. Thank you again."
-- Christopher, road racer
"It's absolutely amazing. I feel so much more comfortable... feels like a new bike. Everything feels better...the seat, the pedals, and handle bars. For one thing, I was putting a lot of the weight on the handlebars before....now I'm in perfect balance...like you said.."neutral"..."
-- Victor, cycling enthusiast
"Just wanted to thank you for my bike fittings. I did the Mt Tam Double Century on Saturday and what you did really made a difference. I felt a lot more stable descending and didn't feel like I gave up anything climbing. I really appreciate it, thanks again!."
-- Anthony, cycling enthusiast
"Just wanted to give you an update on the bike fit that you did for me on my road bike and mountain bike...Everything is terrific! I did an 80 mile road ride on Saturday and kicked ASS. I felt much more comfortable on the bike, and was not as sore as I would normally be after riding hard for 80 miles. On Sunday I rode on the mountain and did a lot of climbing. My position felt much more natural and climbing up rocky ridge and rock springs was definitely easier!

Thanks very much for your help!"
-- Tim, road, MTB, cyclocross racer
"I've been meaning to write you for a few weeks, since soon after the bike fit was completed. The bike and the riding and me (!) feel GREAT!! Wow, what a difference. A few items that come to mind immediately: no more strain on the neck -- very comfortable riding; and very comfortable with my hands on the drops and hoods -- no longer need to mostly keep my hands up high on the handlebars. the whole feeling of the ride has a firmness, a tightness that makes it feel like all the movements -- the push on the pedals with my legs, and the pull on the bars with my hands -- have much increased efficiency. It really feels good, optimal. In addition to the comfort and 'good fit' feeling, I've shaved off some time on my commute as well! So, thanks much for the excellent work."
-- Steven, bike commuter