Don't just take our word for it...
"I was introduced to Dario and Whole Athlete when I moved to California to join ProMan Women's Professional Cycling team. I had heard rave reviews about his bike fitting and their holistic approach to coaching. Having been a cyclist for three years, I suffered from various degrees of knee pain, which I thought to merely be just part of the game. Dario showed me that I was wrong, utilizing minor (but crucial) adjustments to damaging attenuate movement and increased my efficiency. Once I made the trip to The Whole Athlete studio to get my road bike fit properly, I immediately saw results; I felt more comfortable and my upper body was more relaxed. Just as importantly, my knee pain has completely disappeared..."
-- Megan Guarnier, professional cyclist
"I believe Dario has given me the gift of cycling back.
The very next day after my fit, I was able to ride 40 miles without knee pain. You see, I had successful knee surgery back in July 2010 for a torn meniscus and runner's knee. However, I was still experiencing anterior knee pain while riding anywhere between 8 and 19 miles post surgery. The doctors didn't know what the pain was from, but Dario had an educated thought or two on the subject..."
-- Mo, road cyclist
"Over the winter, Dario and I decided to really fine-tune my Time Trial position. After several sessions of working with my inflexible body, we were able to get my position dialed in. For years I struggled with saddle height and bar drop, both of which were causing me great hip pain. We developed a position that is powerful and fast, and most of all pain-free..."
-- Steven Cozza, professional cyclist
"Hi Dario - I have been meaning to write to you for quite awhile but keep forgetting. I just wanted WHOLE ATHLETE" | Precision Bike Fitting for Road, Mountain, Time Trial, Triathlon, Cyclocross & Track to let you know how much I love my bike now! It feels like a completely different bike...and, the best part is that I have no more knee pain and my toes do not get as numb as they used to. Also, since you changed out the stem and moved my handlebars, I love riding in my drops and it has helped me improve my descents a great deal. I rarely used them before...they just didn't feel right. But, now that is where I spend most of my ride. I feel much moreconfident going down Diablo now!..."
-- Janet, road & multisport cyclist
"Thank you for the amazing experience yesterday during my bike fitting -- for the abundance of information, your expertise, and all the time you spent with us.
I took my bike out for a ride this morning and was really amazed how good I felt. My upper body felt sooo relaxed. I think I have been fighting with my positioning on my bike (straining to conform to the wrong position). I had relaxed shoulders, chest felt more open and did not have to constantly try to settle my shoulders as they were already down. I am certain my neck and shoulder discomfort will go away because of this. Also, I didn't need to adjust my body position at all. I just sat in the right place and pedaled on without any readjusting - amazing..."
-- Sonja, road cyclist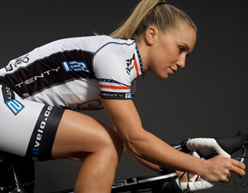 Whether you're a world-class professional or beginning cyclist, everyone deserves a good fit!
"When riding for a professional cycling team, bike sponsors change from year to year. Also, as a multi-discipline cyclist, I have more than one bike that I ride on a regular basis. It is so comforting to know that I can take my bikes, whether road, time-trial, mountain or track, to the Whole Athlete Performance Center and trust that I the best possible bike-fitting done..."
-- Shelley Olds, professional cyclist
"After months of knee problems on the bike I sought out experts in the field of bike fitting and sports medicine. I was fitted and treated by three different, well-known professionals throughout the country. While I respect their experience and knowledge, none were really able to help me with my knee problems, and I never felt quite right on my bike. Finally, I was referred to Dario Fredrick of Whole Athlete. His no-nonsense, practical approach to bike fitting made him my last stop. Dario was able to fix my position and help my knees! I have been pain-free and loving the bike since. Thank you!!"
-- Ken, road & MTB cyclist
"I just wanted to send you a quick thanks for doing such a great job on the bike fit. I appreciate that you listened to my need for increased comfort on the bike. The result has been a much more fun and painless ride and greatly increased performance too..."
-- Harold, multisport athlete
"Let me just say....Holy Crap! It feels like I'm riding a whole new bike. The hamstrings at the tops of my knees don't burn anymore and I actually feel all the leg muscles engaging. Funny how that works when fitted properly..."
-- Aaron, road racer
"I wanted to write to check in via my bike fit I did with you about one month ago. It's really making a difference. I feel comfortable and powerful thus far and the watts are coming back up after several months of little or no riding due to a hamstring issue. Anyways, I'm very happy and confident in your fits and I just want to say thank you again."
-- Nate, multisport athlete